THE COMPANY
From one generation to the next
Our story began in 1947, when the first family tannery was founded. Today, in the third generation, many things have changed but the passion has remained the same.
Victoria was founded to enhance this family tradition and to bring its precious know-how into the future. From one generation to the next, we have created a company capable of growing by adopting technological innovations and responding to the highest demands of the ever-changing fashion market. Today, our main interlocutors are the big luxury brands of designer leather shoes and accessories.
Providing best performance leather is our job. That's why we use technologies and instruments that are the result of specialised research.
The machining processes are fully computerised and managed by specialised operators. A control system ensures product traceability and shows how production is progressing.
The in-house laboratory tests all production batches to ensure the required quality standards.
Technologies and products
Our production plant covers an area of 5000 square metres, accommodates a staff of 30 people and currently produces 300,000 square metres of calfskins per year.
This modern and cutting-edge structure, designed to meet the needs of a constantly expanding company, focuses on quality, innovation and the reduction of environmental impact.
We have a staff of 30 people
Our plant covers an area of 5,000 square metres
We currently produce 300,000 square metres of calfskins per year
We produce leathers with Metal Free tanning, compliant with UNI EN 15987
SUSTAINABILITY
We respect the world we live in.
Sustainability is a fundamental principle of our work. We act responsibly, minimising environmental impact, respecting natural resources and taking the necessary action to promote sustainable economic growth.
Over the years Victoria has obtained important certifications: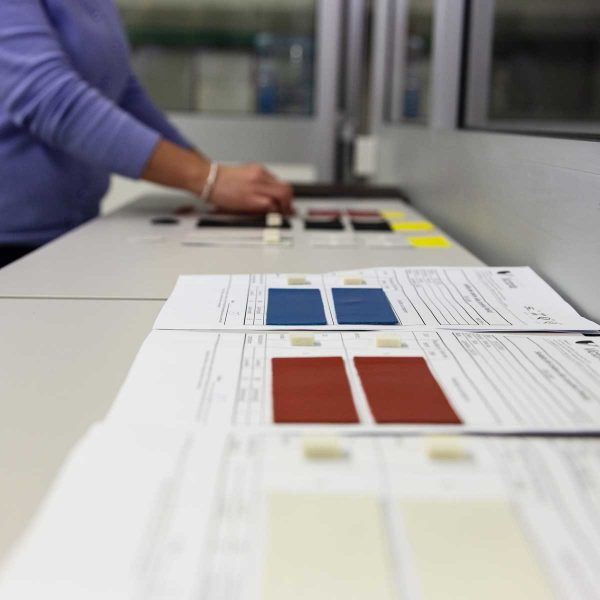 ENERGY EFFICIENCY AND SAVING WATER
Energy saving and safeguarding water resources are two objectives in which we have invested and are continuing to invest a great deal of resources.
Energy efficiency
The project involved the installation of two, new, spray-finishing systems, leading to an important result in terms of energy savings.
PROJECT CO-FINANCED BY THE EUROPEAN REGIONAL DEVELOPMENT FUND
VICTORIA S.R.L. – POR FESR 2014-2020 ASSE 4 AZIONE 2

Water 360
Closed water cycle for the tanning industry: from waste water to process water.
The Acqua 360 project aims to build a pilot plant for the purification and refinement of civil waste water, with the aim of producing a sufficient amount of process water that can be supplied to three tanneries representative of the Tuscan production sector, so that they can test and evaluate its use throughout the tanning cycle, at 100% of the company's production potential.
VICTORIA S.R.L. -PROJECT CO-FINANCED AS PART OF THE TUSCAN POR (REGIONAL OPERATIONAL PROGRAMME) ERDF 2014-2020"

INTERNATIONALIZATION
Intervictoria
Fiere internazionali – International fairs
PROJECT CO-FINANCED BY THE EUROPEAN REGIONAL DEVELOPMENT FUND
VICTORIA S.R.L.-POR (REGIONAL OPERATIONAL PROGRAMME) ERDF 2014-2020 AXIS 3 ACTION 3.4.2 sub a)

Internazionalizzazione 2019-A
Fiere internazionali – International fairs
PROJECT CO-FINANCED BY THE EUROPEAN REGIONAL DEVELOPMENT FUND
VICTORIA S.R.L.-POR (REGIONAL OPERATIONAL PROGRAMME) ERDF 2014-2020 AXIS 3 ACTION 3.4.2

Internazionalizzazione 2019-B
Fiere internazionali – International fairs
PROJECT CO-FINANCED BY THE EUROPEAN REGIONAL DEVELOPMENT FUND
VICTORIA S.R.L.-POR (REGIONAL OPERATIONAL PROGRAMME) ERDF 2014-2020 AXIS 3 ACTION 3.4.2

Victoria International
Fiere internazionali – International fairs
PROJECT CO-FINANCED BY THE EUROPEAN REGIONAL DEVELOPMENT FUND
VICTORIA S.R.L.-POR (REGIONAL OPERATIONAL PROGRAMME) ERDF 2014-2020 AXIS 3 ACTION 3.4.2

THE CONTEXT
The tanning district of S. Croce sull 'Arno